No. 103112 - Published 3 Apr 2011
Review of Lauren of Manchester
Details of Service Provider
Live Cam Girls
These live models are online now - just click an image to go straight to their chat room
The Lady
Slim with long brown hair, good looking, interesting face and great tits and arse. The photos make her look more "solid" than she is in reality and really should be changed.
The Story
Originally booked to see Sunita as I love Indian girls, but was also under some time pressure, so when Lauren became free some 20 mins before my appointment, I checked the book, checked her and said yes.

She came in while I was still in the shower and proceeded to crouch on the bed and wave her arse at me - while I was drying we agreed OWO, Mish & CIM.

The kissing was very nice with no holding back and a real intimate feeling, got me hard very quickly and so, as is my want, I lay back and let this lovely Scots lass have her way with my dick.

Oh and what a way it was too. Lauren pays lots of attention to the head of the cock, which is great for building sensitivity, but she is not afraid of diving down deep and burying her face in your lap, with cock right down her throat. She regularly dribbled spit onto my cock and gave it a glorious hand twisting wank, before going back again for another mouthful.

Lauren's technique is good and does cause the cock to get tense and so to ease off, I asked her to sit on it, which she seemed almost eager to do. Her body is slim and her tits are a big handful and for a while I just enjoyed her sliding up and down on my pole while I felt her body. Soo though, I wanted the intimacy of mish.

Intimate is was as well, with her hands stroking my body and pushing my arse to get the cock in deeper. The experience was heightened by the small moans and neck kisses that your real lover would do, along with full on snogging and desperate whimpers when being ridden hard. What it must be like to do this girl for real if this is the act she puts on for her customers, I envy the guy that gets to do that. We moved around to doggie, which I don't usually do but, as I got to stick my thumb in Lauren's arse and rub it against my cock in her pussy, it was worth doing.

As is usual though, I find the girls always have more than I do and her perfectly trained pussy begain to stir familiar sensations in the base of my cock. Rather than waiting until I was close, as I would normally do, I wanted Lauren to suck the cum out of me, so I pulled out and laid back to enjoy those pretty lips.

Lauren set about her job with a combination of deep sucking to lubricate, gentle but firm circular cock head wanking and concentrated head sucking and licking. She paused only to lick up the spit running down my cock. Amazingly I managed to last for 5 minutes of this wonderful, unwaivering attention to my cock.

As I felt the cum begin to flow, I relaxed back, but Lauren was not interested in letting me relax. As the first shot of cum hit the back of her throat, she held my cock just below the head and sucked the cum out of me. The sensitivity of my cock in mid cum flow was off the scale, like an electric shock applied to my cock and coursing throughout my body. Despite my obvious agony/ecstasy, she continued to look me right in the eye and suck the head of my cock, way past the point of exhaustion. After she'd finished she knelt up, with cum running from the side of her mouth like some semen sucking vampire and gave me that evil twinkle grin of hers. I don't know what she did with the cum, I was too busy fighting for my life.....

Lauren is attractive, intimate, seems to want you and wan to please you, just what a WG should be. the tits are worth a squeeze for any money and her command of the cock made the decision to change my mind a success.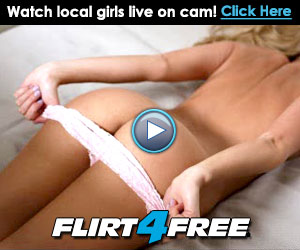 Watch Local Girls Live on Cam