No. 108927 - Published 6 May 2012
Review of Sarah of Crewe
Details of Service Provider
Live Cam Girls
These live models are online now - just click an image to go straight to their chat room
The Premises
70's Retro parlour,2 rooms, no carpark, arrive early to park in sidestreet, rooms not ensuit but shower available, again arrive early to shower, Friendly clean and tidy.Excells take great care to ensure clients don't bump into each other so ok if your shy.
The Lady
Sarah 5'-7" 34c-24-34,in her 30's,pretty face,lovely bright eyes,black hair,cheeky smile,fit tight tonned body,pert breasts,great legs,a bottom to die for peachy with 2 small dinples on her lower back,tight pussy this woman is gorgeous just like her pictures,no even better in the flesh.
Sarah was dressed in lingerie type bra+panties,and hold up stockings and heels.
Sarah is always well presented and I think likes stockings and nice lingerie.
If you pulled her while out in the real world you'd be over the moon.


The Story
I arrived early to shower,then went upstairs to await Sarah.
I have seen her before at Excells when she worked there in the past,glad she has returned.
To my amazement on entering the room Sarah reconised me,saying she hadn't seem me for ages.
I used to see Sarah for an hour and her service thenwas a little more GFE,with light kissing breast and nipple licking and reverse oral on her pussy,she has what could be discribed as a designer pussy,lovely to look at nice to eat and tight to enter.
Unfortunately Sarah only does half hour bookings now,and they seem a little less intermate,more PSE I surpose,wheel em in,bring em off,wheel em out.(or may be I just find her so dam attractive I don't last long) I think she also works at Sandys Manchester parlour+appartments,wounder if she does hour booking there worth the extra mileage if she does.
Sarah entered the room dressed as above,she quickly removed her bra + panties,telling me to get out of my boxers and lie back on the bed.
Sarah then climbed onto the bed above me,Sarah started by lightly massageing my inner thighs,cock and balls,my cock soon grew erect.
Sarah asked if I wanted oral with or without I opted for OWO + ?10.
Sarahs OWO is some of the best you will ever get.She maintains eye contact with you most of the time,and has a cheeky expression on her face all the time.
Sarah runs her tounge up and down your shaft,and around the rim of your helmet,lick and sucks your balls into her mouth Mmm,and when she takes the head and first 2/3 inches of your cock in her mouth,clamps her lips tight and sucks like a hover,making slurping noises,while bobbing her head up and down.Sarah also likes to glance and watch the action in the bed side mirrors,so do I seventh heaven.
After comentening on how rock hard my cock was Sarah said it was time to put it in her pussy Mmmm.
Sarah applied a little lube,then stradled my cock in cowgirl.After easing my cock in with a couple of gental thrusts,Sarah began ridding me with great vigor,all the time I was running my hands lightly over her gourgerous peachy bottom, and her pert breast and nipples Mmm once again Sarah was looking in the bed side mirrors saying "look at that lovely cock sliding in and out of my pussy",Too right I was looking,it looked great and felt fantastic Mmmm!.
I don't know what lube Sarah uses but it's ultra slippy.Althought her pussy is tight and your cock feels like it's in the grip of a warm wet velvet glove,Sarah was riding me quickly with great vigor.
After a while Sarah stopped and surgessted I fuck her in doggy,thank goodness for that I thought as she'd brought me close to popping.
We changed possitions and I entered her doggy style.
Sarah has one of the best bottoms I've ever seen,and it was amazing watching my cock slide in and out of her in doggy.I had started slowly and was intending to keep it slow to prolong my pleasure.
However,Sarah began pushing her bottom back after each withdraw thrust building up speed and enguraging me to speed up.
There is also a mirror at the head of the bed and I could see that Sarah had that naughty expression on her face again,just as in oral,the conbenation of this and the way she was thrusting her bottom back onto my cock,balls deep,forced me to speed up I couldn't help myself.It didn't take long and I popped filling the condom.
Sarah removed the condom and cleaned up my cock.We chatted while I dressed and Sarah showed me out of the rear entrance,I asked her for one last look at that peachy bottom before leaving Mmmm.
From Sarah entering the room until us leaving the room was probally only 20 mins.This may sound negative but I don't mean it too,it was 20 mins of extasy for me.
I just wish Sarah would do an hour to extend my pleasure,like she used too.
Be aware fellas Sarahs oral technice is some of the best,and her thight pussy will grip your cock and milk your balls in no time at all.
Or maybe as I said before I just find Sarah too dam attractive and sexy to hold out for long.
I would recommend her and will revisit her again when I get chance,even if she brings me off in 5mins flat it'll be worth it.

Thank you Sarah for the pleasure you gave me,just wish you'd take longer bookings,or be a little slower with me.
You are beautiful,pretty face,lovely figur,great legs,peachy bottom,you give fantastic owo and your pussy is wounderfully tight.


Thanks for the pleasure you gave me see you again soon.

J...xxxxxxx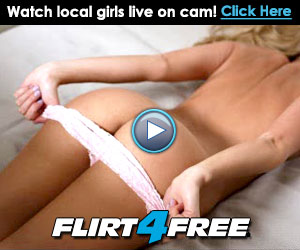 Watch Local Girls Live on Cam