No. 115093 - Published 26 Oct 2013
Review of Vogue of Manchester
Details of Service Provider
Live Cam Girls
These live models are online now - just click an image to go straight to their chat room
The Premises
It's been five years since I was last at Sandy's – doesn't time fly – but it is still a high quality venue and thanks to its membership scheme which did not worry that I was quite an old member I was able to book my first choice of girl for an hour's fun. The main entrance can be difficult to find but once you are in, then the whole atmosphere is one of sexual nirvana. As ever, the reception area had lots of photos of the team on the wall with their faces unblurred and, at various times, the girls on duty were around dressed only in their sexy underwear adding to the general relaxed but enticing atmosphere.

I would also mention that there was a rather cute young girl in a red uniform tunic who was acting as the receptionist's assistant making the tea and coffee, showing people to their rooms as they became free and that sort of thing. She was very sexy indeed and I hope she intends to take the plunge and join the team as I would certainly make the effort to go and have the pleasure of her.

I come from down south so my visits north are limited. I really wish that there were venues like Sandy's down here. Obviously having sex with a beautiful and enthusiastic woman is a great experience but what can make it truly mind-blowing is having the pleasure of that woman's body in pleasant surroundings on a comfortable bed that has nice bed clothes and strategic cushions and pillows on it and lots of room for manouevre. The gallery of mirrors mean that whatever position you are in you can enjoy as much of the visual part of the action as possible – hell, they even have proper working showers! Sandy's delivers on all fronts and I have never yet had a disappointing experience there. To keep the standard up over so many years is an achievement in itself and something other parlours should strive for. Well done!

The Lady
She is blonde in her early twenties, with a lovely cheery face, a gorgeous figure and a pair of full firm and completely natural breasts that I very much enjoyed having in my hands and playing with. In her heels she is taller than you might expect but all in all she is a beautiful woman with a friendly sexy attitude. Strangely, I don't think I ever got to admire her bottom although I did spank it most satisfactorily a few times!
The Story
Well, I never expected to be in Vogue but now I have been! Sorry for the joke but I couldn't resist. If Vogue Magazine is a high quality publication filled with photos of beautiful women who you lust after and want to have sex with, then Vogue from Sandy's Superstars is nothing less than a high quality beautiful woman who inspired my lust and whom I'm pleased to say I have had sex with.

We were in Room 7 and she arrived while I was still in the shower so that when I got out she was lying on the bed in her underwear looking very sexy and available. GFE having been agreed on we began with some kissing as I ran my hands over her body and it wasn't long before she reached behind her to unhook her bra, freeing her breasts for me to enjoy. My cock had hardened and Vogue wanted to get to work on it so she got between my thighs and took my member into her a mouth for a lengthy oral session. I lay back on the bed and admired the view in the ceiling mirror. She looked very lovely sprawled over the bed, my cock in her mouth. I was soon very turned on and fancied her continuing her task but in a different position. So I stood at the end of the bed, got her to kneel before me and start sucking again. A lovely sight was complemented by some fantastic feelings!

After a while she asked if I could return the favour so she lay back, removed her knickers and I started playing with her pussy. I usually enjoying licking a woman's cunt and this was no exception. I stayed between her thighs for a long time as she lay back and moaned in pleasure. She later told me that she had really enjoyed herself and complemented me on my technique (which was good for the ego if nothing else).

After getting her to go back to sucking my cock again for a while, she asked if we could fuck (wasn't that cute of her?) so I lay back, Vogue applied the condom, got on top and began to ride me while I gave her some gentle spanks on her bottom in encouragement. Sadly it wasn't long before I came, filling the condom as she enthusiastically impaled herself.

After that I needed to rest for a while so we cuddled up on the bed and chatted. Then the familiar stirrings returned and I suggested we head into round two. Vogue wondered whether I would manage two pops in an hour – how little she knows me – but was up for trying. She began by wanking me which she did very well and it eventually had the effect of getting me erect. Eager not to let myself go off the boil, I knew that I would have to get stuck into her so I rubbered up, put her on her back, opened her legs, aimed at her pussy lips and firmly thrust forward to a very satisfying gasp from Vogue. Well embedded in her, I shafted away at her in a lovely rhythm. What a pleasurable experience that was. She was very relaxed and clearly enjoying the sensations I was giving her. I for my part was enjoying the feel of her pussy yielding to me and the sight of her gorgeous tits as they moved in time with each thrust I gave her. I gradually upped the pace, thrusting harder and deeper into her until I could hold on no longer and I enjoyed a most pleasurable orgasm.

We chatted as I showered and got dressed and I took the opportunity for a few more cheeky feels of interesting parts of her body. I then said goodbye and left satisfied for the drive home.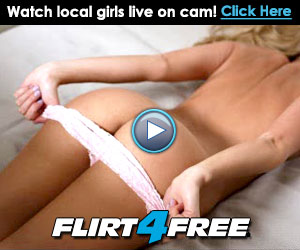 Watch Local Girls Live on Cam