No. 119050 - Published 20 Jan 2015
Review of Lexi of Manchester
Details of Service Provider
Live Cam Girls
These live models are online now - just click an image to go straight to their chat room
The Premises
Sandys Superstars Northenden. What is there to say that has not be said already? Fantastically run, clean, well established parlour.
The Lady
Lexi's age is white and probably between 30-35. Enhanced bust, cup size EE but so well done you would hearly believe they are fake with basically no scars. 5'8' with a tight and toned body that a 21 year old would be proud of and with womanly curves in all the right places. If your a tit or ass man, like I am, you are seeing the right lady. Was wearing a turquoise bra and panty set with black heels and black stockings which were kept on during the whole session with out me having to ask.
The Story
Well I've seen around ten ladies at Sandy's over the past three years and some have been mediocre whilst others have been legendary. However, my session with Lexi, which was a couple of days a go, was exceptional which is why I have felt compelled to write my first ever report.
Got to the location and has I walked in prayed that Lexi was free as she was the only one I wanted to see based on her photos and her previous reviews. I got in and only two ladies were free: Ava and Lexi. Asked if Lexi was free for an hour and when the receptionist said `yes' I booked her up which was luck has when the payment was going through the machine three more lads entered the parlour and Lexi would of probably been with one of them.
Was showen to room one and had the usual shower and has I had just finished Lexi walked in and then walked straight back out again. Thought WTF but 30 seconds later she came back in and said: `I've just asked for the heating to be turned on as it is rather chilly in hear.' Whilst I dried myself she laid on the bed and we had a slighty disjointed chat but that was my fault has I was stunned by the beauty I saw on the bed after I had put my glasses back on. The coversation was still a bit disjointed when we came to what extras where on offer and their prices until we started to chat about our, or I should say my, previous sexual encounters which made both me and her laugh. By this time I was on the bed and a massage was offered to me and declined so Lexi said to me to lie on my back and relax. Then she straddled me and we had a fanstatic kissing/ DFK session before she promply told me to suck on her massive tits which I duely did. After this the rubber was expertly put on my cock by her mouth and for the next 10 or so minutes she did everything to my cock that any red-blooded male would want a lady to do when giving a BJ. Thank god for the rubber or I would of exploded. Then she came back up and has she DFK me she said `I want you to lick my aching pussy. Can you do that for me?' Ummm..YES. So I went down south and I was greated with one of the best lady gardens I have EVER seen. I would say that Lexi has a pussy that ANY pornstar would be proud of. After staying `down south' for 10mins Lexi came and then she said `Come back up her and kiss me. I want to taste my pussy juices.' OMFG. Then she sucked my dick again and played/ sucked my balls until I was aching to fuck her. We started in doggie with her facing the mirror and I fucked her slow and fast varying my strokes with she seemed to enjoy. And when I looked down all I could see was her little bum hole and her lovely ass. Then we swapped to reverse cowgirl and she fucked me for a whils until I could not take it any more and I HAD to fuck her ass. I have a feeling that she knew I wanted to fuck her ass by the positions that we did and the things that she was saying. She then lubed up and she eased my cock up her ass in the cowgirl position and this had me gasping for breath. Then she said: `Nice and tight, eh?' and I opened my eyes and all I can say is that she had the most dirtiest, naughtiest look on her face that I have ever seen on a lady. Then has she started to ride my cock she started DFK me and whispered in my ears some dirty talk that would make Hugh Hefner blush! After a while of this she went back into doggie and I carried on fucking her ass and sheand I carried on with the dirty talk. And then she arched her back so has I was fucking her ass I could see her big tits rocking back and forth and then she said that she wanted me to come over her tits. Well it did not take long before the juice was rising and she then turned around lying on her side and she then wanked me off. Has she was wanking me off she played with my swollen balls and she carried on looking directly at me and talking dirty until the juice was realised all over her tits. She then milked my cock and balls for all that I was worth rubbing the end of my cock all over her nipples and then rubbed my cum in her tits with my cock. This had to be one of the most intence orgasims that I have ever had. Then she kissed me and I sat there like a tool for a couple of minutes trying to get my breathe back and wishing I could rewind time by an hour and relive the whole experiance. After I recovered we had another chat before it was time to go. But has I was leaving she pulled me in for a couple more DFK. She then escrted me out of the room and has I entered reception I just said `Wow, What the fuck.' with a massive grin on my face and everyone, escorts and punters, turned around. I know this is a long report and I hope it was well worth the read but I had to get this off my chest has I can not stop thinking about this experiance and this lady. I will definately be seeing her next month and February can not come around quick enough in my opinion. Other then the disjointed chatting at the start, which was mostly my fault, I can only say this was an absolutely faultless hour session with one of the best ladies around at the moment. X.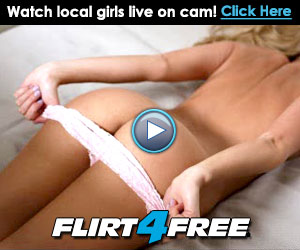 Watch Local Girls Live on Cam