No. 122432 - Published 30 Apr 2016
Review of Charlotte of London
Details of Service Provider
Live Cam Girls
These live models are online now - just click an image to go straight to their chat room
The Premises
Well known block on Queensway. The apartment was clean, cosy, comfortable. Very easy to find. Safe and discrete. Easily accessible by numerous bus and tube routes. Great location.
The Lady
Charlotte is a very petite, very pretty and sweet, softly spoken little Thai girl. She looks similar to her pictures. She's probably in her early 30s, but it's difficult to tell with Thai women. She looks like mid 20s. She has a nice little body, and a cute face. I was not expecting her to be so tiny, but I quite like petite ladies, so I was pleasantly surprised. She also has really cute dimples. She's got above average English for a TWG.
The Story
This was an extremely frustrating experience. I'd just returned to London from overseas after Easter, and was in the mood for some sweet Thai lovin', but alas, it was not to be. When Charlotte opened the door she looked so lovely and angelic I thought I'd died and gone to heaven. She was dressed as requested and looked simply divine, but things quickly deteriorated. Her manner was friendly, polite, and sweet, and she was smiling, not sulky or stroppy at all, but she just doesn't like escorting. In fact it disgusts her, and she's only doing it because she needs the money. I know this because she told me with her own two lips towards the end of our appointment.

At the start she kept moving away from me when I tried to get close to cuddle, and when I made attempts to kiss her. She faffed about the room, tidying up the table, going into the bathroom to check the shower, checking her phone etc., She continuously kept getting messages on her phone throughout the hour, and every time she stopped proceedings to look at them/send messages back. She kept returning to the bathroom to flush the toilet over and over, complaining that it wasn't flushing properly, but when I looked, there wasn't anything to flush! When I reached out and tried to caress her arms/shoulders etc at arms length she still kept moving away. She was trying to avoid physical contact as much/as long as possible. I gently tried to persuade her to join me in the shower, but she said she'd showered already. All this time she didn't appear to be in a bad mood, which was odd. Usually when the girl doesn't want to let me do ANYTHING, she's in a grumpy mood.

After I returned from my solo shower I again tried to kiss her, but she kept moving away. She said my stubble was scratching her face. Fair enough, I had a stubble. I had to plead with her for all I was worth to let me undress her. She reluctantly agreed. When we got on the bed I attempted RO, but again she pushed me away. She said my stubble was hurting her. Fucking stubble! So with kissing and RO off limits, I asked for a bj. As we canoodled, the tip of my erect dick rubbed against her thigh. She stopped everything and said "a minute, a minute' reached over to the locker and grabbed a pack of wet wipes and thoroughly cleaned her thigh. A few seconds later the tip of my erect dick brushed against her ass cheek. Again she stopped everything, said "a minute, a minute" grabbed the wet wipes and thoroughly cleaned her ass cheek. A few seconds later my dick brushed against her thigh again. Again she stopped everything, "a minute, a minute" wet wipes, cleaning etc. On and on it went. She apologized for being so clean! By this point I was losing the will to live. Finally we got to the bj after I was extra careful not to let my dick touch any part of her body. But she wrapped BOTH hands around my cock and just put the tip in her mouth. I tried gently nudging her hands away and get in deeper, but she kept bringing them back. She kept stopping every few seconds and cleaned thoroughly inside her mouth with tissues and then spat in them and threw them in the bin. She did this over and over again. After a few minutes of this I suggested that we just get to the sex. Surprisingly, the actual sex was reasonably good. With me still lying on my back she straddled me and rode like a good 'un for several minutes until I came. She then got off and did her usual wet wipes and tissues routine.

As she began tidying up around the room I smiled and beckoned her to lie with me on the bed to cuddle and chat. She said no. I asked her why. She politely said "Because I not like. I not have to take orders. I not have to cuddle with you". Fair enough, cuddling isn't part of the deal. Then she told me how much she hates escorting, and that she just does the bare minimum that she can get away with with the customers, as she badly needs the money. Her body shuddered with revulsion as she told me how much she loathes it. With 15 minutes still inside the hour she asked me did I want a quick shower before I leave. I said "But baby, we still have 15 minutes left. Look." and pointed at the clock. She said "No! You come 5 minute early! Time almost finished!" With that, I was crestfallen. Her mood had turned really sour. I quickly showered. When I returned from my shower Charlotte was silently tidying the room. I quickly dressed myself in total silence. I gathered my things in silence. Charlotte stopped her tidying and let me out.

I tried to get my head around what happened for days afterwards. I had been freshly showered, nicely dressed and well presented. I just hadn't shaved in a few days. But she just doesn't like escorting, and she obviously didn't like me. A complete waste of time and money.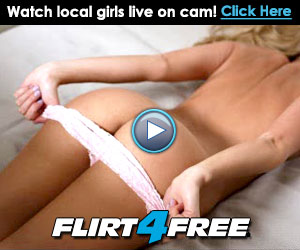 Watch Local Girls Live on Cam