No. 122533 - Published 18 May 2016
Review of Kourtney of Manchester
Details of Service Provider
Live Cam Girls
These live models are online now - just click an image to go straight to their chat room
The Premises
Northenden branch of Sandy's. Nice area, easy parking, nice rooms, great showers, busy reception.
The Lady
30 something, tall Brunette, good looking, nice curvy body, largish enhanced breasts.
All over natural tan with fading tanlines (unfortunately for me, I love tanlines on a woman)
Lovely manicure & pedicure.
Really attractive.
Personality wise I found Kourtney to be really easy going, warm & friendly.
Chatty & funny, typical down to earth, cool Northern girl.
The Story
I was a little nervous as I usually am in SS for some reason, I had a bad first ever punt experience there & I think that's probably the reason also I'm not a big fan of the always busy reception area (although the receptionists have always been friendly & welcoming) it can feel a bit like a meat market & that as a punter you're on the conveyer belt.
Next one in type vibe.
Quick shower, then I waited on the bed for her, the room was strangely cool (it was a warm day outside) had to put my T shirt back on. Kourtney came in a few minutes later & told me something was wrong with the air conditioning, I told her it was ok she could warm me up.
Her laidback, easy going manner helped relax me right away.
I declined a massage & she undressed, climbed on the bed & told me she had sore nipples so basically they were off the menu.
Er.... okaaayyyyyy! Hmmmmmm..... not a great start!
I was lay down on the bed & she crawled on, on all fours & asked if I kissed (what kiss beautiful, attractive women? No! Never!! I didn't reply) yes I said, a nice light, sexy kiss with a little tongue, before she rubbed her soft breasts up & down my body.
Ok much better!
Started with oral, a little light at first for my taste so I told her how I like it & it got better.
Her mouth felt great, warm & soft & wet.
Lovely immaculate, sexy, red fingernails & great eye contact from her.
After a few minutes of this pleasure I asked her to lay back so I could return the favour.
She was nice & fresh (not always the case), at first I felt her reaction was a little OTT & exaggerated, which put me off & made me lose a bit of wood, but after a while & a bit of experimenting from me on different areas to concentrate on, I found a spot that seemed to do it for her. I could sense & feel her reactions change.
Her noises & moans were less Hollywood & sounded genuine, her breathing changed & after a while her muscles tensed & her moans grew louder, I knew she was close so increased my effort until she climaxed and was too sensitive for me to carry on.
I felt great now & was nice & hard.
She must have had that post-cum brain freeze because she forgot i was already fitted with the rubber!
Mish.
This was fantastic, one of the best mishes I've ever had.
She felt really good inside & I told her so.
Lots of kissing on the lips & neck of each other, lots of dirty talk & encouragement from her & lots of great eye contact. Lotta passion!
All the good stuff really!!
When I felt myself cumming I pulled out and gave her some more RO until I was ready to go again.
More mish, more kissing, more encouragement from her for me to fuck her deep & pound her, more Heaven basically!
I was knackered at the end of it & didn't have the energy to do the Doggy she asked if I wanted (next time hopefully)
I wanted to finish with CIM so lay back to recover as she went to work on me.
After a few minutes of her lovely warm tongue & mouth she had me bucking & jerking with pleasure as I came pretty hard, nice post pop sucking as well, she's not a run & spit right away merchant.
She showered (good sign, again not always the case) as I dressed and we had some easy small talk about the usual stuff.
Good punt, I left feeling good, & think she could be one of them girls where the next time is even better.
Great girl, warm, friendly, chatty, really attractive & when she warms up, fantastic in bed!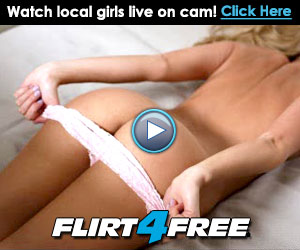 Watch Local Girls Live on Cam