No. 32228 - Published 6 Jul 2003
Review of Simone of Manchester
Details of Service Provider
Live Cam Girls
These live models are online now - just click an image to go straight to their chat room
The Premises
Sandy's at Prestwich, suppose everyone knows it by know. Had the Jungle room, double bed and lots of space and, for once, the shower didn't try and kill me but provided mildly hot water in large amounts with no fuss before *and* after.... it's a miracle I cried. There were no other punters present when I arrived and Simone, who I'd popped in on the off-chance of seeing, was free at the time.... it's a miracle I cried. Although I would quibble that the Prestwich branch doesn't seem to go in much for introducing the girls while you're in reception.

The Lady
Medium height blonde, pretty in an approachable girl-next-door sort of a way. A busty girl, in fact very curvy all over and with a very sexy "hourglass" shape. Claims to be carrying a few extra pounds, but I put that down to the usual female paranoia, you simply don't get that sort of generous ( and wonderfully squeezable ) figure without a "few extra pounds". Simone will appeal particularly to the boob fans, the boobs in question certainly appealed to me. Web-site description is broadly accurate although I'd quibble that "loves kissing" is an exaggeration. I found Simone very sexy physically, but the bonus to that was that she's very cheerful and friendly, chatting away in a natural way that makes me think she'd probably be an ideal "first punt" for any nervous newbie.

The Story
Having recently had a run of, at best, average punts it was nice to be reminded of just what fun you can have with the right girl ( of whom Sandy's seems to be developing a depressing monopoly ) and Simone is emphatically a fun girl. I was still drying myself when Simone breezed in, stripped off and hopped on the bed and asked me which view I'd like, on her front or back, while I finished drying myself. That set the tone in a lot of ways, chatty but always with a sexy, flirty edge to the conversation and without those vulgar cliches that are such a turn-off. So I joined her on the bed and I gave her a massage while we chatted and after a while I went for some fondling and nibbling. Simone definitely likes her boobs played with, and I certainly enjoyed playing with them as they really are delicious; I also spent some time in extravagant praise of them which prompted the comment from Simone that *nobody* liked her boobs as much as she did as, with a wicked smile, she began nibbling her own nipples.... definitely a horny sight.

So, since Simone was busy nibbling at one end, I decided to nibble t'other. Now this was very nice, Simone proved very responsive and outspoken as to what worked and didn't, although I remain sceptical as to the "wow, what an orgasm" comment and took it for well intended flattery. Simone now announced it was my turn for some oral, and didn't mind at all me indulging in some more boob fondling while she sorted me out, even grabbing my head and inviting me to go blubble blubble blubble. While the oral was very good, top class in fact, Simone's hourglass figure proved absolutely spectacular when viewed from above, sort of like a living Degas. I commented on this, and Simone jumped up and insisted we reposition ourselves so I could have the view in steroe from the mirrors... service with a smile, you can't beat it. By now I was ready for some hide-the-sausage, so I asked Simone what her favourite position was and it turns out she has a fair old few of these; what's more she was happy to detail them... with gestures, can be very educational punting. Well, in the end I got it across I was just asking which one she felt like, and she opted as most WGs do for doggy ( my theory is that, and who could blame them, they're not keen on dwelling on my face in mid nooky ) for a start. Simone did suggest we just start with the doggy, but it was just too good to give up on and, adding in the view, I got carried away and went at it hammer and tongs until the finish. Like the class professional she is, Simone eased me down, chatted while I had another shower, chatted some more while I dried, and saw me off at the door with a smile and a kiss.

To sum it up; Simone is a genuinely friendly girl whose speciality is, in the old fashioned phrase, top class rumpy pumpy. A pleasure to spend time with, in all senses of the word.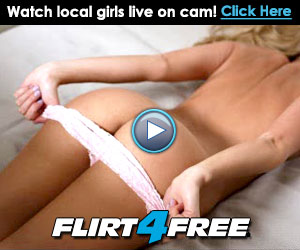 Watch Local Girls Live on Cam