No. 35323 - Published 10 Oct 2003
Review of Donna of Manchester
Details of Service Provider
Live Cam Girls
These live models are online now - just click an image to go straight to their chat room
The Premises
It's been quite a while since I visited Arabesque and frankly it was a dump that time. But being stuck in Bury for a couple of hours I decided to give it another try on a fellow punter's assurance that it had improved. Front entrance on a busy road, parked in a nearby side street that seemed safe enough even if it's not the tidiest of areas. Inside I'd say it's still in need of lots of TLC, although in between answering the phone the receptionist was plying the paint brush so perhaps it's an ongoing process. Still distinctly underpowered in the areas of showers, toilet door sticks, TV in room was OK for Countdown but does Richard Whitely turn *you* on... no ? Don't do a lot for me either. Set against that, the welcome was warm and friendly in a relaxed and genuine manner, which is better than than a frosty welcome in plush surroundings. Had the smallest room downstairs, OK bed, but pokey and in *serious* need of a lick of paint and/or wallpaper and some decent lighting. Charge was ?40 for "40 minutes", which I heard the girls describing as half an hour, I actually had two half hours but I don't know when the knock comes.

The Lady
Web-site has unblurred photos that are a pretty accurate reflection. However, Donna appears considerably taller in the flesh, described as 20 and looks 20-25 which is close enough for parlour-speak. Nice slim figure, pretty, not big boobs but has very sticky-out nipples. Wearing a red body-stocking and hold-up stockings that suited her slim figure well. Other girls on were Nichola, small, dark, pretty and her sister Sarah who was on her first day and looked quite a lot like her sister.


The Story
Popped in to find all the girls were busy, but as they came free one by one it began to feel like an episode of Holby City. Nichola hobbled in with an injured leg ( I suppose pulling a thigh muscle is testimony to enthusiasm ), so I chatted to her for a while about chiropracters. Next up was Sarah, who wasn't injured, but who I didn't pick because she was on her first day and really looked a bit young for me. Incidentally, she laughed like a drain at Nichola's injury, so I suppose they really are sisters. After a while Donna came in, and my first thought was "my God, she's tall", but that's WG's shoes for you. Turns out Donna had cracked a couple of ribs recently, but to be fair she gave it her all in the room, so you'd have to say Arabesque girls are game even when their various parts are giving them gyp.

Donna took me through to the room, which I have to say I was not at all impressed by, and went off in search of a hair clip while I stripped. Donna returned and stripped off and joined me, and I gave her a massage while we chatted. She has a pleasant personality and it seemed quite natural to move on to neck nibbling and lippy kissing and thence to nipple playing. I wasn't really in the mood for anything too structured, just some mutual fondling and "natural" foreplay and Donna was very accomodating that way; it's one of the mysteries of punting to me why so many girls would rather dive down and chew your todger than let you stroke their thighs a bit, no such problems with Donna. It may seem a small thing, but it's surprisingly rare to find a girl who'll stroke your back while you stroke hers rather than the more mechanical routines, and if you're in the mood for such a thing a good WG should go along with such a simple bit of fun. Well, Manifesto of Punting apart, things moved along and time for the condom; I usually expect the girls to put these on ( not least, because I think most girls prefer to be certain for themselves that it's properly on ), but while she was doing this she expressed some alarm at the size of the Wibbly-stick. I always assume this to be flattery and just said she should take it as a compliment, but maybe she'd got a point 'cos even in the standard missionary it was something of a struggle to...er, dock fully. So I took things very slow and gentle, which actually made for a great sensual punt. This is a bit explicit but... guys reading this will know what I mean when I say how many WGs just kind of lie there and let you get on with it ? Donna definitely doesn't, she moves, very sensually, and in time with her partner, which was *great*. Am not getting into the did she/didn't she come thing, but she did get very red round the shoulders and chest and I'm sure she enjoyed herself.

Still having an hour to kill, and having talked about role-play earlier which Donna claims to enjoy, I had a drink and a rest before trying another session which would include said role-play. This was a bit of a disaster, Donna started giggling, I started laughing, she giggled some more and the scene collapsed in confusion. So we just fooled around some more, ending up in a doggy which was again excellent. After we'd finished and cleaned up a bit, Donna gave me one hell of a hug, which was as nice a touch as I've ever come across.

Summing up ( finally ), Donna was really very good, I liked her a lot. I thought the other girls on were also very nice and you couldn't fault them for friendliness. I would return and see any of the girls, but I don't think at present I'd return more than occasionally. The place really does need smartening up ( and the matter of how much time you get sorting out ) as it would get depressing if you went more than once or twice, shut it for a week and give *everywhere* a spot of fresh paint would be a start, a decent shower would also be a big help. Still we go for the girls I suppose, and they were nice friendly girls.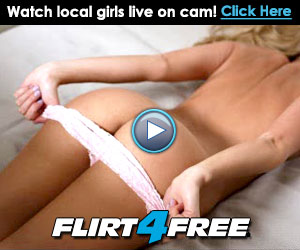 Watch Local Girls Live on Cam