No. 37814 - Published 7 Jan 2004
Review of Sarah & Nicola of Manchester
Details of Service Provider
Live Cam Girls
These live models are online now - just click an image to go straight to their chat room
The Premises
Arabesque has been reported on a number of times. It?s not the best parlour I?ve ever been to, but I?ve visited places in Stoke and Crewe and believe me it is a VERY long way from the worst. But yes they need to sort out the shower facilities and perhaps install a remote door entry system so that you?re not left standing in their doorway for that crucial 15 seconds when the ?flight or fight? stuff starts pumping through your veins! But otherwise the rooms are perfectly OK and their mirrors are used subtly and are very well placed
The Lady
Nicola is down on the site as 18, Sarah her older sister is down as 19 and I think that?s probably right. Pictures on the site fairly accurate, but Nicola is now blond whilst Sarah is dark and proud of it. Both girls have a great pair of tits and lovely suckable nipples. Read on for more!
The Story
OK, lets get the negative bits over with. One of my pet hates is ?extras?. Or should I say paying for them as extras. Arabesque?s list of extras breaks no records, but when you?re mind is on other things its confusing to say the least. I?d rather pay more ?at the door? and then let things take their course in the room. Case in point; at a couple of points during the session I had to hold back and try to work out whether I had enough cash in my wallet to do what was coming (literally!) naturally. Arabesque?s prices are bloody good value (IMHO) and they could happily afford to up the door price and include more (or even everything!) in that.

Second, another punter commented about the ciggies. I?d much rather they didn?t and for some it?s a bit of a turn off. But it?s a personal choice thing.

And the positive? Where do I start! I don?t think I?ve ever been told by a parlour that I?ve got an hour?s wait, then be lead into the room within 10 mins. Nice. Nicola lead me in and I had a small disappointment when I was told that she didn?t allow anyone to go down on her. As muff munching is one of my favourite pastimes I thought this was a blow, until Sarah came in. No such restrictions here!

This isn?t going to be a complete blow by blow, but all I can say is that both girls acted dirty as hell from start to finish. Rarely was my cock not in one mouth or the other. Various nipples were proffered to me and gratefully sucked on. Nicola?s cunt was wet and open to everything except the old tongue whist Sarah was happy for hers to be ministered to in every way possible. Both vaginas tight as a ducks eyelid and one finger up was almost a struggle. Sadly, the member never got to try out either, but I?m not complaining.

Although the girls aren?t into each other full-on lesbian, they were very happy to suck and lick each others nipples for me. They were also very happy to oblige with sucking and biting (nearest I get to S&M) mine.

Now about 10-15 mins into a 40 mins session I blew. Sarah?s clit on my tongue and Nicola?s tongue around the stiffy was just too much. Bugger, session over. HOW WRONG CAN YOU GET? Sarah?s fanny was placed back where it did the most good, i.e. just short of a tongue?s length from my face and Nicola kept going at the nipples and the stroking. It took the rest of the time to do it but believe me with these two there IS a second coming!! I can only say that the sight of Sarah wanking me off and licking my bell end whilst looking the filthiest look deep into my eyes will stay with me a long time. So will the sight of her legs and hips, perfectly positioned for me to get at her clit and vagina whilst everything else was going on.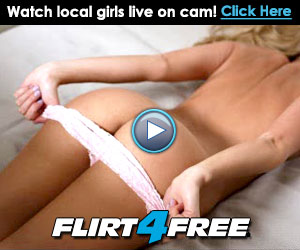 Watch Local Girls Live on Cam