No. 47387 - Published 26 Nov 2004
Review of Emma of Manchester
Details of Service Provider
Live Cam Girls
These live models are online now - just click an image to go straight to their chat room
The Premises
Much reported on parlour... descriptions accurate although I will say that the Lounge area is extremely comfortable and ALL of the staff from receptionist through to the working girls are extremely friendly, down to earth etc. etc... A truly comfortable parlour in every sense of the word and highly recommended to all from novice onwards. Yes - it IS situated on a very major road... however, the signage is very minimal - in fact NO outward signage whatsoever apart from the premises number... traffic flows quite freely and I certainly didn't feel at all uncomfortable but then again, I'm not easily shaken and I am an out of towner...

Massage room was thoroughly acceptable - nice working shower, shower gel, nice thick clean towel... cannot fault the venue.... 10 out of 10.
The Lady
Emma was my choice as a result of perusing previous field reports and studying the staff rota. I was in Bury "on business" just 500 yds from the parlour - I became interested int he parlour as a result of my previous party experience at the very disappointing CREAM. As I was in the area I though it daft not to indulge myself.

I selected Emma without having met the other ladies simply on the sterngth of the reports...

The first girl I came across was Ellie - and I have to say that with hindsight I would probably have picked her over Emma on the basis of her personality and attitude towards me... I felt rather guilty for not having picked her! Rachel also made a brief showing before being "selected"... Now Rachel is probably more like the sort of girl I would go for in real life... conventionally pretty with superb breasts...

All in all... it's a difficult choice! And if the truth be known I'm probably glad my decision had been made BEFORE I set foot in the premises.

Emaa is very tall, very slim, the photos are accurate... but Emma's real quality lies within! She is an incredibly well spoken and very educated girl... I forget the precise word/s - and I apologise profusely for generalising here, but at times she used words that were worlds above the sort fo thing you would expectto hear coming out of the mouth of a "parlour girl".... That does sound VERY DEROGATORY - and I do very much apologise for that, but the point I am trying to make (badly) is that Emma has rather unique qualities. I wont go into detail for fear of exposing her identity to family and friends, BUT... we talked about sports/athletic interests/pursuits and it is absolutely without question that Emma did have a background NOT typical of a TYPICAL parlour girl...
The Story
OK... Lets just say that HornyJack's luck was out (AGAIN)... it just so happens that he dropped on a bad day for the parlour... A new girl had failed to show, the drafted in stand-in fell ill... The place was in disarray and I can't really criticise the girl/s or the receptionist.. it was just my damned misfortune (once again - but cest la vie!)

I pid for the hour and I don't actually doubt that I got an hour IN THE ROOM... however... I can't have had more than 20 minutes of company and activity with Emma...

I started with a competent msssage, some anal play and rimming - a short interruption whilst Ellie busted in wanting to join in - and then onto some wonderful OWO.. and I mean WONDERFUL... Culminated in CIM and a lovely snowball where she kissed my cum back into my mouth (at my request) and NO - I didn't swallow!

Emma left he room again -once again seemingly for an age... but again, this, I feel was due to circumstance ands concern for the ill girl - although maybe she just didn't click with me... I don't know.

When she finally returned to the room she said she had to pop out and findout how much time we had remaining... She came back and told me time was up...

I never got the opportunity to give her any oral or hands on attention myself and most sadly, I never got the oopportunity to give her a VERY, VERY much desired "seeing to"!!!

I can't really say where the fault lies - it could be that I didn't do it for Emma or it coulda been circumstances... The truth is, I will not criticise. Arabesque IS a quality place with a great atmosphere and I dearly hope to one day indulge in a party there!

I will be visiting Bury on a regualr-ish basis and Ellie SHOULD BE INFORMED that SHE IS TOP OF MY LIST - Ellie - that isn't a threat or a promise - it;'s a fact! I think you're a lovely person - mad as a fish - but lovely and I am sincerely looking forward to our session!

Emma - you were great while it lasted, but sadly it wasn't anywhere near long enough!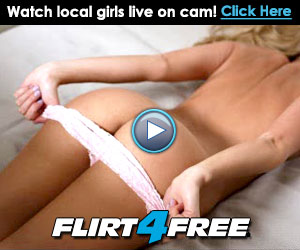 Watch Local Girls Live on Cam