No. 57737 - Published 23 Sep 2005
Review of Victoria of Manchester
Details of Service Provider
Live Cam Girls
These live models are online now - just click an image to go straight to their chat room
The Premises
Sandy's Northenden branch. Not easily accessible to the first time visitor (or the second time visitor in my case). Parking on the high street (Palatine Road) is possible but requires unnecessary concentration and energy which you would be better advised to save for making the right decisions with regard to your intended punt. A car park is available to the rear and I would advise to use it not least because of its direct access to the rear entrance. Parking seems safe enough during the day but I would not like to hazard a guess to its suitability in the evening/night. The establishment itself is clean, inviting and comfortable (and it needs to be given the time you can spend waiting for the lady of your choice should you have the misfortune of not being able to avail yourself of the appointments privilege).
The Lady
I was persuaded to give Victoria a try from viewing her pictures on the website. Her description is largely accurate (although it is a little disconcerting seeing some of the girls in the flesh and marrying their faces to the blurred pictures on the website - I found myself wanting my memory of the faces of one or two of the girls to be blurred again - though not in the case of Victoria, her face fits with her portrayal on the site). She is about 5'2, with a petite and toned body and that is a credit to her given her age. She is well presented and that is the most remarkable thing I can bring myself to say about her.
The Story
I had certain preconceived notions about what my experience with Victoria would be like - a classy, elegant, 'real' and enthusiastic exponent of the art of prostituted love - and by and large I was disappointed. She is admittedly an enthusiastic practitioner of the so-called "gfe" experience but this more often than not betrayed a high degree of over-acting and superficiality. I would have much preferred not to have been compelled (because she leaned in) to allow her to press her lips against mine (fleetingly) for what amounted to a vain attempt at a kiss. It was just my luck that she took it upon herself to do this three or four more times. She was kind enough then to offer a massage and it wasn't until she had repeated for some time the same non-chalant motions up and down my spine and the base of my neck that I understood this to be an exercise in time-exhaustion. At the end of this chapter she wanted to proceed directly to giving me oral (with or without). To free myself from the monotony of the by-the-numbers approach I offered her a massage which she embraced with false rapture. We started with her lying on her back so that I could admire her reasonably proportioned arse. I glimpsed her vaginal lips peeking underneath her cheeks and couldn't resist fingering her for the moisture test. This aroused me to want to give her oral and she again welcomed this with false delight. In spite of my educated efforts I never provoked her from her general disdain and even caught her blank expression staring into the distance when I looked up mid-way through. At this point my remaining interest drained out (prematurely of course) and I went through a few chapters of my own by-the-numbers treatise but not before Victoria staged a performance of "I'm cumming...ah oo ah". We completed the debacle with a perfunctory engagement in the 'mish' position and I was glad when I finally 'came' to signal the end which Victoria also celebrated with her crowning statement of "oo I came again". Yeah right. Did I enjoy it? What do you think? Would I recommend her? Yes...for a Razzie Award.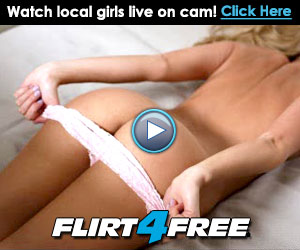 Watch Local Girls Live on Cam