No. 58379 - Published 20 Oct 2005
Review of Sammi of Sheffield
Details of Service Provider
Live Cam Girls
These live models are online now - just click an image to go straight to their chat room
The Premises
run by Jeff who is happy to show punters around with no obligations. well kept, well thought out, and well managed. the mirrors over the bed on the sloping cieling were an inspired idea, the piped classical music, not so. apparently Jeff believes it promotes a relaxing atmosphere but I defy anyone to get off while listening to flight of the bumble bee or charge of the valkyries (if that's spelled right). just normal every day radio would make a great environment just about perfect.
The Lady
young (looked early 20s), blond hair about shoulder length and straight. pretty face, nice smile and allover tan. good figure and the perkiest of little tits. very chatty and easy to talk to. shaven down below.
The Story
Although, this is going to read like a negative report, I really should point out that none if it is unredeemable and that the blame could quite squarely be laid at my door for the bulk of the reason why I came away unsatisfied.

I arrived to find that there should have been three girls on but two had not yet arrived, (stuck at the train station) but Sammi was by no means a begrudging choise as you?ll see from her description above. Although, facially, she did remind me somewhat of an ex girlfriend from whom I enjoyed a particularly bitter parting. Anyway, I waited while she finished drying her hair (my choice, I was in no rush) and Jeff told me to wait upstairs for her. She was prompt in that I wasn?t even fully undressed before she came in.

Sammi gave a lovely back rub with lots of oil but here?s where the problem starts in that it was only a half hour timeslot and she was still stroking my back over 20 mins into the session. I had to make the decision for her to move on and so I asked for reverse massage and oral ? if I hadn?t said something, I could probably have still been there at lights out enjoying having my back gently stroked. Unfortunately, this meant I felt the need to rush this because of how time was getting on (though to her credit, Sammi made no mention of this ? the more suspicious amongst us could take it as a ploy to go to a 45min booking but I don?t believe for a moment Sammi would be so calculating). I gave her a relatively quick erotic massage then went down on Sammi during which she made all the right noises and, though I could be wrong, it did sound like she genuinely came.

She laid back and enjoyed the moment and again, it was me prompting the timing. As there was only a few more minutes, I though we?d best go for straight sex as opposed to oral because I know which takes me longer. I laid back and Sammi started to wank me and got me hard enough but then carried on so long the old fella lost interest. Now don?t get me wrong, I wasn?t on the best of form today and was never going to get rock hard but I think a more experienced girl would have put the condom on at the first opportunity. I was also a little put off by all the eye contact Sammi was giving me. Again, don?t get me wrong, a lot of blokes I know really go in for this but personally, it makes me a little uncomfortable. I took over for a while trying to get the soldier to attention but it was a lost cause so we agreed to call it a day. I paid my dues and left feeling embarrassed.

Thing is, as I said, this is by no means a bad report, just a collection of things that perhaps will come with experience for Sammi so Jeff, if you?re reading this, please pass this to Sammi as friendly advice, not as a reprimand. Firstly, day to day chat is good for breaking this ice but less talk I think is more conducive to a relaxing and seductive environment. Secondly, Sammi should realise that it?s ok to take charge of the situation. When she?s finished massaging the back, it?s fine to ask the bloke to turn over so she can do his front and likewise to broach the subject of extras when she thinks it's time. This allows her to make progress through the session. Thirdly, a little understanding of body language would be helpful in that if a bloke doesn?t requite your eye contact, it?s probably best to leave eye contact out of the equation. While Sammi does have lovely eyes, I simply prefer to keep my eyes on the action but feel impolite if I?m not returning eye contact but Sammi spent so much time looking cheekily over her shoulder into my eyes, I ended up trying to make a point of looking elsewhere. As for the failing stiffy, I wouldn?t dream of blaming Sammi, but the session going as it did, lost sight of any chance of recovery I?m afraid. I?ve no doubt I?ll go back to cameo, but I think I?ll probably be too embarrassed to see Sammi again.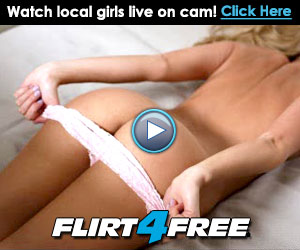 Watch Local Girls Live on Cam