No. 69841 - Published 6 Dec 2006
Review of Petra of Milton Keynes
Details of Service Provider
Live Cam Girls
These live models are online now - just click an image to go straight to their chat room
The Premises
Smart, clean apartment.
The Lady
Fullface photos are available on the website. Go on, have a look.
The Story
Let's get one thing straight: I am not Russel Brand, although there is a passing resemblance. I share his penchant for coiffured hair, thick mascara, and pointy shoes. Oh yes, and for the Ladies - afterall, there's nothing wrong with a bit of burlesque at the weekend; I likes a bit of casual sex with a provocative little perisher. I?m only human!

I peeked out the curtains and it was another slate-grey Victorian sky. "Who cares", I shrugged. I gave my 'winkle' a quick wipe on the bed sheets before dressing myself in my half-gypsy, half-transsexual attire. Then I garnished myself with dandyish accessories. I was dressed to thrill.

I summoned a cab to take me to the parlour. "Don't spare the horses, footman. I'm on a Crusade of Noble Debauchery ... and my needs are great!"
Upon alighting, I was greeted by the saucy young filly herself.
"Hello Mi'lady," I swooned.
She smiled back, obviously left speechless by my eyeliner, tight jeans, and long, shaggy hair (not to mention my large archaic vocabulary!). She was a charmer and no mistake, readers. She had a peach of an arse: pink, smooth and succulent. I'm sure she'd qualify as part of my 5-a-day healthy living plan.

Inside the boudoir, Petra turned to face me. Our eyes met. Our faces moved closer ... and closer ... till at last our lips touched. It was like a bolt of electricity had shot through my body, flashing down to my heavy ballbags, awaking the dormant tadpoles therein. Their immediate wriggling was most distracting to a gentleman in the throes of passion. Perhaps the likkle swines were excited in regarde to their imminent release. The fellows required a performance befitting their ejection into the world. Anything less than spectacular would be an abomination for the poor dears.

I draped myself over the bedlinen and Petra joined me, and we got disgustingly familiar with one another. We kissed and cuddled till my tight jeans became too painful to endure. As luck would have it, Petra had a twinkle in her eye that betrayed her wanton desires to undo my shiny belt buckle and peep inside me frillies. They all want to find the hiding place of my renowned swagbag. She removed my shoes and helped peel off my tight black jeans. Once I was naked, she commented, "You dress like a girl but have the body of a man."
"No mistaking!" I spluttered in reproach. "I'm a self-confessed woman adorer; sort of a roaring heterosexual, if you will."

I lay down and she gave me a bit of a cocksnog till me knackers were all atingle. Such variety and expertise was a true delight for she had a most eloquent tongue. After 10 minutes I could feel the tadpoles swirling, so on with the cover and I was up her like a sweep up a chimney. We got down to some naughty monkey business. We sucked each other's tongues, fiddled wif each other's nipples, and did a dirty hip-dance until finally I grunted some pre-linguistic animalistic noises followed by the exclamation "Blimely, I've come!"

A spectacular punt! Petra was better than Kate Moss, I tells ya! I felt like jumping in the air and clicking me heels! Petra could easily become more addictive than Sweet Lady H.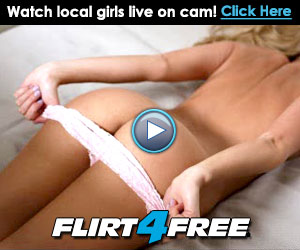 Watch Local Girls Live on Cam