No. 74952 - Published 27 Jun 2007
Review of Melanie of Manchester
Details of Service Provider
Live Cam Girls
These live models are online now - just click an image to go straight to their chat room
The Premises
Another pleasant place to visit. Room no 2 has a great bed with strategically placed mirrors to see our performance from lots of angles. Car Park very full - I had to block someone in - probably one of the staff, I suspect.
The Lady
Lovely blonde, tallish with pert breasts, mid twenties. Just as pretty as her pictures and I agree with practically every word of her write-up.
The Story
Just reviewing this encounter is getting me excited again. Having visited Sadie (Report 74946)at Prestwich the day before, I was now visiting the other branch and had booked to see Melanie. Having had two pops with Sadie the day before, I wasn't sure how much energy I would have but I needn't have worried. After a problem getting lost in Manchester, I arrived having had to put the appointment back half an hour, but this didn't seem to phase the lovely receptionist (who I would have quite happily also have taken into the room - in fact she may have been one of the girls standing in).

So, just after 4, I was shown into the room and showered. Melanie arrived shortly after and what a fantastic babe she was. We discussed the money and then got to know each other. She was wearing a black slip and I explored her body under it whilst we kissed (no tongues but still a good kisser). After a while, I removed the slip so that I could get at her breasts - not large, but a pleasing handful and very sweet, pink nipples that I was soon sucking on.

In exchange, Melanie's hands were starting to wonder over me. By the time she was at my cock, I had a good hard on and lay back to enjoy her pleasuring me. I have to say that Melanie's manual skills are wonderful and, before long, she was taking my cock deep into her mouth (without) where her oral abilities were put to good use. The sight and feel of a beautiful woman sucking on my cock never fails to bring me to the edge of an orgasm but Melanie's slow, gentle and deep technique combined with her obvious enjoyment at what she was doing made this a very special session.

I didn't want to come yet so I offered to return the favour. She accepted enthusastically, lying on her back and opening her legs so that I had access to her hairless pussy. Licking my way up her inner thighs, I was soon paying full attention to her lips and clitoris. I think Melanie was enjoying herself. Not only was she making pleasurable sounds but she insisted that I stay ministering to her until she reached what seemed a real orgasm. I don't think she was faking because, she told me where she wanted me to concentrate and told me that when what I was doing was good for her.

It was time for some proper sex now so with a condom applied, she mounted me in cowgirl style and bounced on my cock for a while. This was a really magnificent sight cos, basically, Melanie screws like a rabbit but after a while I wanted to take a bit more control so I got her kneeling on the bed and fucked her doggy style, playing with her breasts and admiring her arse.

I knew I would soon be cumming so I disengaged, removed the condom, lay back on the bed and invited her to suck me to completion. Again, her oral technique was a joy, pleasuring me but holding me back longer than I would have expected, considering how turned on I was. Eventually, however, the moment of no return was upon me and I was shooting into her lovely mouth. After disposing of it, she told me how generous my supply of cum was - when I told her that Sadie had said the same thing the day before, she said she was amazed I could produce that amount two days running (which was good for the ego if nothing else).

Although I'd booked for an hour I wasn't sure if I could manage a second go bearing in mind my activities of the day before but Melanie wasn't going to just give up that easily. She began to massage me and her gentle hands soon began to encourage me back to life. A little bit more cock sucking followed and I knew then that I would be able to have another go.

Secong time round, being a bit of a bonus, is the time when I tend to want to indulge myself, taking charge and using the woman simply to sate my lust. So, I pulled Melanie away from my cock and lay her on her back, lifting and parting her legs to give complete access to her entrance. I placed my cock (now covered agin)in position and then firmly thrust into her. I tend not to last very long in those circumstances but those moments were exsquisite. I fucked her hard and deeply, watching her beautiful body judder and her breasts shake with each thrust as I took my pleasure from her. Eventually I came again, exploding deep inside her pussy. "That was short and sweet" she said. I suppose it was, but it was very intense.

It was time to shower and clean up. While doing so, for the first time ever, I heard the knock on the door, and I knew that our time was up so we said good bye and I left for home.

Melanie is very skilled at the arts of love, rejoicing it seems to me in her feminity and her role of satisfying men with great sex. She did everything I wanted of her without holding back and I think I can say that she is one of the best fucks I've ever had. I hope to have the pleasure of fucking her again at some point.

Melanie, if you read this, thanks a lot and I hope you continue to have fun and give pleasure in the sex trade.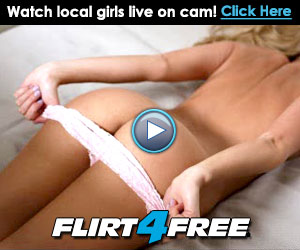 Watch Local Girls Live on Cam