No. 84747 - Published 31 Aug 2008
Review of Chantelle of Manchester
Details of Service Provider
Live Cam Girls
These live models are online now - just click an image to go straight to their chat room
The Premises
Much renowned venue; this was my first visit to a massage parlour, but Sandy's is far more polished than the dinge-holes one is led to expect from conventional wisdom. Rear entrance well out of public sight, to the extent that you could be popping around the back of the building for enough other reasons than because you're about to pay for sex and don't want anyone else to know! This was a big plus for me as I was VERY nervous about being spotted and possibly heckled! Room was spick and span, and nicely lit. Finally, big points also to the receptionist (who gave her name on the phone, but whose name I have forgotten! :oS) who was extremely amiable and made the whole procedural introduction smooth and easy.
The Lady
Apparently Chantelle has had numerous requests to push for updated photos on the Sandy's website. I said to her that she was slightly different to how I'd expected from the photos, although this was more in the facial department. That may sound rather daft considering that all the girls' photos on the site are blurred out, but it was just an inkling. Anyway: she's extremely good-looking. While waiting in the room post-shower I played 'name the pornstar' (by myself, great fun) from the DVD that was playing; facially Chantelle is like Holly Wellin, except slightly hotter methinks. She is well-tanned and has a good ol' handful of boob (though she said she's to have 'some work' done on them soon), and has a small but pert bum: very nice to my tastes. She also boasts rather large biceps (watch out ardent feminists) for a woman; don't get me wrong, this isn't Arnold Schwarzengger sans penis that we're dealing with here- I didn't notice them myself until she proudly showed them off with a few tenses at the end of our session!
The Story
We began with some snogging (tongues), with me intermittently sucking on her nipples, then moved on to OWO (I have tended to prefer use of a hand with this with girlfriends but Chantelle didn't need that, her mouth-only technique felt great, interspersed with the odd balls-deep deepthroat) before I returned the favour.

I'd not been too keen on the idea of that prior to pitching up at Sandy's (knowing that other guys may have 'been there' earlier on, but they'd only been open an hour, Chantelle had remarked that it had been 'dead' (a rarity for Sandy's, I believe), and she seemed really clean and, well, too tasty to not sample I guess!).

Chantelle had me down there for two/three minutes (I'm sure it was only that length of time because she had satisfying me at the forefront of my mind, and not because I'm shit at orally pleasuring women... ahem) before it was time to get to the fucking.

I'd requested anal and, no messing, we got to that without any regular fucking. Chantelle warned of having a tight arsehole (not the way to speak about her boyfri... that's just shit banter, I'll move on...) and eased me in slowly. After a minute or so of slow, easy strokes the pace increased with only encouraging moans from Chantelle: excellent attitude!

The anal experience felt so awesome that I had to switch back to OWO, and I lay on my back while Chantelle did her thing. I'd requested a CIM/facial combo finish so she just told me to 'let her know when'. On reaching the point of (almost) no return, at my request I straddled Chantelle's chest and began stroking myself off. Before I'd reached stroke two she intercepted, saying: "Hey, let me do that!" which could conceivably have made me cum in itself, to be honest.

Still, I lasted another minute of her stroking me into her gaping mouth, before I began splashing her lips and tongue with cum, which poured down her chin and onto her neck.

We hadn't really talked much prior to then apart from things pertaining to the service, but when chatting in more colloquial form Chantelle struck me as a lovely, amiable woman; friendly and pretty darn funny to boot. She politely saw me out to complete an excellent service.

I'd definitely both recommend her and insist that I'll be visiting again, but on leaving I was able to see just how gorgeous the other girls Sandy's has to offer are too. One taller girl (Paige?) stood out as a taller version of Nadine Coyle from Girls Aloud. Crumbs.

If I win the lottery I know where I'm going to be spending huge wads of cash!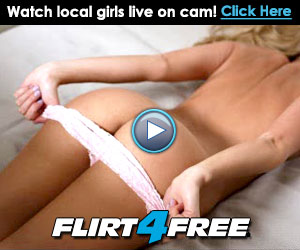 Watch Local Girls Live on Cam