No. 127901 - Published 15 Mar 2019
Review of Blueberry Girl of London
Details of Service Provider
AW Profile ID:
4260975


WARNING - The "adultwork" site has a long history of dishonest practices including fake reviews and putting users' privacy at risk. Please encourage genuine ladies to sign up for a profile on PunterNet.
Are you Blueberry Girl? This review has already given you a lot of publicity - why not sign up for a Service Provider profile and take advantage of all the marketing tools available here - please click here for all the details
The Premises
TBG has a small but immaculate apartment in a fascinatingly quaint block that dates back to the Edwardian era. It is close to St Pancras station so no nearby parking is available.
The Lady
She is a beautiful looking brunette with the most captivating eyes. Her AW photos show her exactly as she is, bodywise.

Apart from her looks, this lady has personality to spare. Vivacious, bright and intelligent and funny and boy is she good at her job. YES YES YES she is.


The Story
BG greeted me in a figure hugging red dress displaying some delightful boobage that got my immediate attention but it was her face that quickly took over centre stage of my senses. It's beautiful in every way. Her big brown eyes shone brightly, mischievously, full of promise of things to come. Come quickly as it happens. Within seconds of a welcoming kiss her hands were on my trouser belt. "Whoa. I need to freshen up" I blurted. "OK let me get a towel. By the way do you like strawberries?" she returned, showing me to an immaculate bathroom. I said "yes" to the strawberry question, wondering. I was to find out the reason for it later. Once freshened she got hold of my belt again and lead me in to a beautifully furnished bedroom with a four-poster bed. She removed my belt and told me to sit in a classic leather upholstered wing chair. She then poured out a glass of prosecco. "Drink" she instructed, disrobing. I drank. She had a swig too then knelt, tugged down my trousers and tongue-tipped her way up the inside of my thighs. Once at the top, she released my now rapidly stiffening cock from its holster and, looking right into my eyes, gently applied her lips and tongue to it but all too briefly. My cock strained to reach in to her mouth but she pulled away letting go of the elasticated waist which snapped back to leave just my helmet sticking over the top. A fleeting faintly triumphant grin told me that she knew she already had me in her thrall. And she was right. She had bombarded all my senses within minutes of my arrival. I was totally entranced, by this wondrous creature whose personality could light up half of London. She turned towards the bed and bent over, holding the pose just long enough to plant another erotic image in my now BG-besotted brain. I was hers to do with as she wished.

What followed was the most intensely sensual and erotic hour of my life, transcending all the normal expectations of lust and ego gratification it was like the best dream imaginable only more so. I caught glimpses of a heaven (apercus d'un ciel) previously unglimpsed. Naked on the bed, my arms in restraints, my cock in a cord harness, she set about bringing me to boiling point. Visions that are still vivid in my memory - of her tongue and her lips on my cock, her mouth softly, slowly, expertly engorging it - watching her walking so sexily to the kitchen (to get what?) having left the bedroom door wide open for my benefit - that beautiful face slowly closing in to deliver the most delightfully lingering, tongue-flickering kisses, the most erotic ever – are still vivid in my mind. And there was a veritable festival of amuse bouches to titillate my taste buds in the most exciting way possible. With my eyes covered with a chiffon scarf she delivered a sequence of sensations mouth to mouth (bouche a bouche) – first a cool fizzy liquid quickly followed by her tongue diving in on a bubble chase as some of the Prosecco dribbled down my chin - then something solid, sour and sweet (guess what) plus her eager tongue again - not sure what the third item was but by the time it arrived I was intoxicated with the sheer sensuality of it all - the fourth was delivered via different lips.
(Throughout all this I was instinctively reaching out to touch and caress but she cleverly kept all her prime assets just beyond the limits of the restraints whilst at the same time giving me the occasional reassuring little hand squeeze. "Later." she had whispered, "First I get what I want then you will get what I know you want, and when you do you will start with your tongue and then fuck me doggy style". I did not complain).
She fed me some prosecco from the glass and removed the scarf. I thought the tasting treats were over but I was wrong. She straddled my head and lowered herself so that my tongue could just reach those different lips, those very very special lips. The taste was sweet and fruity but I had no idea what it was. I didn't care. I had that most divine of sepulchres, BG's beautiful wonderful love hole, right there in front of me. As I strove to let her feel my deeply genuine appreciation she slowly lowered herself until I was able to apply my endeavours well inside the lip boundaries until at last fruitiness changed to umami. It took a while but what a deliciously, joyfully satisfying moment it was.

We didn't fuck doggy. BG decided to stay on top, appropriately. (More delightfully erotic views for my memory bank).

We finished with a shower together.

What more can I say except "What a WOMAN". In Eddie Cochran's immortal words - "She's something else".
A fabulous first meeting. The best kind of FUN ever. I don't know if it will ever be bettered but I am definitely going to find out.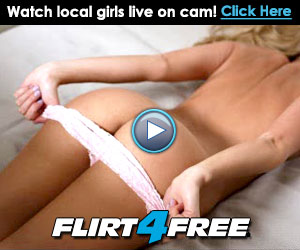 Watch Local Girls Live on Cam