No. 131123 - Published 29 May 2022
Review of Roby of Manchester
Details of Service Provider
Are you Roby? This review has already given you a lot of publicity - why not sign up for a Service Provider profile and take advantage of all the marketing tools available here - please click here for all the details
The Premises
First review as I feel more massage places are needed on here.

As previous reviews state this is located in the main road, terrace house about 300 yards to the nearest car park (Tesco, Halfords). You can try to park closer as I did around the corner on residential depending on time of day.
It's not very discreet so you may be waiting a few minutes at the front door as I did in full site, but I think this was becomes I was a little early.

The place is very clean with a waiting room, this is where you will also pay at the end of your session.
The room itself was upstairs next to another 2, extremely warm (cold day) and dimly lit. Offered a shower before but didn't need this, shower will be used after.
The massage table was pretty wide and extremely comfortable
The Lady
Roby herself I would say is mid 30s, she's did tell me her age but cannot remember.
She is exactly how her pictures show, if not better in person. Piercing eyes, around 5'4 and slim build. She is Italian but speaks great English.
She also has a few tattoos on her arm/chest which I love.
The Story
So I was left to undress, as she went to get me a drink.
Was left a good 5 minutes so stripped down and covered myself with a little thin sheet, laid face down.

Heard her enter the room remove her massage jacket, she was wearing a right fitted vest top and the black Leggings.
She commented that she had not seen me before so explain I was a newbie, she asked what I wanted so I said full body relaxing massage (I like to play the long game and not ask straight out for extras) she then asked soft, medium or hard and replied medium.

Immediately whipped off my sheet so I was stark so I already had an idea how this was gonna end.

The message itself was very good, lots of pressure, she used her hands, arms and elbows at points with plenty of oil always (maybe too much for some) but I was not bothered. I would say my massage face down lasted around 30-35 minutes, as this half ended she did have my legs apart quite a bit, working here hands right up, occasional glancing past my balls with odd brief CC swipe.
She was pretty chatty throughout which I didn't mind as her accent was amazing and there was a bit of flirting going on which never hurts.

She asked me to turn over and then started on my legs, long oily double handed all the way up, as I was now facing her I got a decent look at her and noticed again how much of a little stunner she was. Her eye contact was very long and intense, as she massaged my legs, then moved up to my stomach and chest, she stood behind my head then leant her body over my face, working her hands back toward my groin. I could smell her perfume every time she leant over me. As she leant over again her hands fully went over my manhood, she had a good feel then giggled asking what else I wanted.
She offered he or b2b (with he) - I opted for the he as after an hours massage I was already feeling like the slight touch wouldn't finish me off.
We agreed on this and then out of the blue she laid next to me on the big enough bed/table, fave next to mine and started snogging my face off. I'm not sure of the flirting was genuine or not (I'm not a bad looker and pretty good shape) but this went on for a minute or two, all the while this was happening her hands had already started pumping away. She stopped after about 5 minutes of this, stood up and then removed her leggings, revealing a black thong. I didn't ask why or question, maybe she was hot, and then got back next to me, grabbed me and away she tugged. I now started to slide my hand towards her crutch, using my fingers I gently stated rubbing her clit through her underwear, she was moaning slightly while she still had a firm hand on me, occasionally moving down to my ass and balls.
I tried my luck and decided to slide a diner in beyond the thing, I did this slowly and there was no resistance. Running her bare clit things were definitely very heated, I did move a finger over her hole but she did squirm a it so I didn't push it.
She stood up again, kissing stopped, standing to the side of me now she was go at it with one hand still wit that deep stare moving her other hand around my ass, rubbing two fingers over my whole, think at one point a finger slipped in Slightly. Not long after this I exploded and she kept on rubbing away until I had fully stopped.

She got dressed and cleaned me up, leaving me a towel for a shower. She was a little sweaty after that and flushed herself.
Walked across landing to the shower (clean facilities) dressed, paid up when I went downstairs and was gone.
All for £55 which I felt was an amazing bit of business.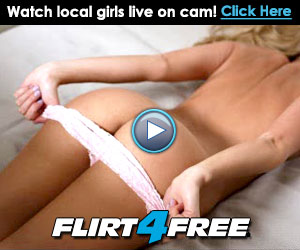 Watch Local Girls Live on Cam